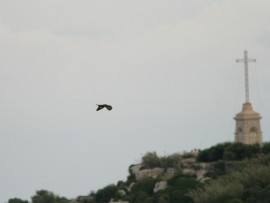 Bonn/Valetta. As announced by the Committee Against Bird Slaughter (CABS) today, the organisation will conduct a 3 week camp on Malta in autumn to monitor and combat illegal bird hunting. In the course of their activities, named Operation Safe Haven, 32 volunteer bird guards from the organisation will be present on Malta from 11 September to 4 October 2009. Their tasks will include monitoring and recording of illegal trapping and hunting of protected bird species and assisting the Malta Police in the detection and apprehension of offenders.
The volunteers, from Bulgaria, Germany, Italy, the Netherlands, Poland the United Kingdom and the USA will be supported by three full-time CABs staff and a veterinary surgeon. Eight mobile teams, with operational areas of some 15 square kilometres in area, will be deployed daily to cover as much of the island as possible. Their efforts will be concentrated on the poaching hot spots known from previous CABS' operations such as the areas around Girgenti, Rabat, Siggiewi, Zurrieq, Marsascala, Luqa und Dingli, as well as the important bird of prey night roosts in Buskett, Mzieb und auf dem Mellieha Ridge. "Those observed shooting at protected bird species will be observed and photographed by our well-equipped teams and reported to the police" says Heinz Schwarze, president of CABS.
In past years poachers have increasingly invaded night roosts, frightened the birds with spotlights, and 'sportingly' shot them down from their perches. To combat this CABS teams will protect large night roosts throughout the night. Night viewing devices and infra-red cameras will be issued to selected team members to enable identification of offenders and their vehicles in the hours of darkness.
The operation will, as ever, be discussed in detail in advance with the Malta Police and is supported by the Maltese branch of the International Animal Rescue (IAR, Hamrun). "As always we hope for a quiet and safe passage of migrant birds over the islands to their winter quarters in Africa", states Heinz Schwarze.
During the annual bird protection camps on Malta over the past few years CABS teams have had a good record of success in detecting illegal poaching and reporting offenders  to the authorities, as well as documenting numerous cases of illegal shooting of protected bird species. A daily online blog, with breaking news and an up-to-date account of CABS' activities, will be available at www.komitee.de/en from 12 September.